In May, our team was able to visit the Savitri Waney Eye Centre in Purnea, Bihar, a 60 bed hospital supported by a team of 70 people. Due to Covid restrictions, we had been unable to see the hospital since its opening in October 2020. During our visit we were able to explore every aspect of the hospital, making for a very busy trip!
Accompanied by an external ophthalmologist, Dr Swati, we were guided through all of the hospital's systems by the wonderful staff at Purnea and Akhand Jyoti Eye Hospital. We also observed the flow of patients into the hospital from eye camps, witnessed eye examinations and cataract surgeries first-hand, spoke to patients pre and post surgery, reviewed administrative systems and spent time with the diligent teams across all the departments.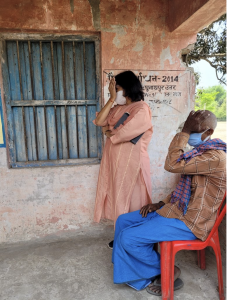 As part of our trip to Purnea Hospital, we spent the day visiting an eye camp in the village of Bhargama, Bihar which sits close to the border of Nepal. Eye camps are the starting point for the majority of patients who receive free cataract surgeries at Purnea Hospital. Prior to the camp, a team from the hospital will advertise the upcoming event in the surrounding area. This particular camp was attended by over 300 individuals. Of this group, 100 were referred for cataract surgery at Purnea Hospital the following day, using transport arranged by the hospital. 
The photo above is of Dr Swati observing an eye examination at an eye camp.