Should we invest in this? Wouldn't it be easier to just film it ourselves? These are some of the questions we asked ourselves last year as we deliberated over whether or not to make a film about our project work in Bihar, India. With access to film making tools and apps at our fingertips (at a fraction of the cost) it's easy to dismiss the idea of investing in film production when thinking about content.  We decided to take a risk – we wanted to create a beautiful film with meaningful content that would connect people to the communities and work that we do; to share stories with our donors that were more than just statistics and pretty pictures. It soon became clear, an iphone film story would not suffice!
We partnered with film production company RAW LDN to make a film which followed the journey of one family as they travelled across Bihar to get their sight restored. The film process and production was a great experience for us and we were thrilled with the final film and reaction from our guests at the inaugural screening.  As  Maggie Gardner, Director Savitri Trust explains "Our gala at The Arts Club was extraordinary – an audience of just 120 people raised over 1 million pounds to help cure blindness in Bihar, one of the poorest states of India. A key component of the success was RAW's film which transported the audience into the lives of Belvanti and her daughters. This is not a typical charity film – it inspires and gives hope."
So we were delighted when last month The Resource Alliance invited us to share our insight and thoughts on this film making journey at their inaugural IFC Asia – one of the biggest international fundraising conferences in the world.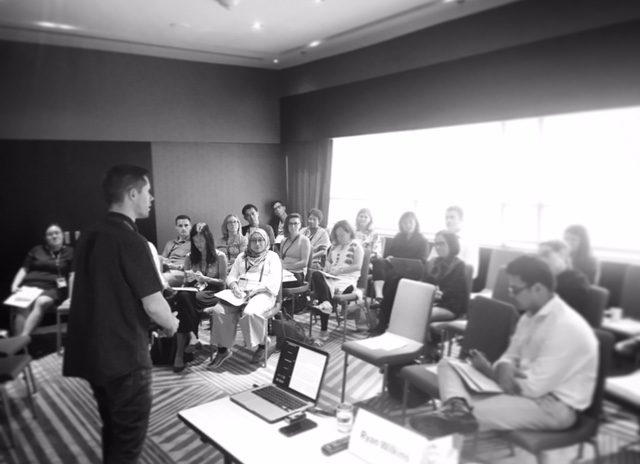 We joined Ryan Wilkins, Founder & CEO at Raw London to deliver workshops on how to plan, produce and measure effective video content for your organisation. Here are some of our top tips of things to think about if you are considering making film content as part of your charity fundraising strategy:  
1.      The brain processes visuals 60,000 times faster than it does text
2.      Video is in the top 3 most effective digital marketing tactics
3.      Film can connect donors to the work of a charity in a highly emotive and effective way
4.      One piece of content can't do everything, but 1 good story told will get the ball rolling
5.      Always put your audience first – ask yourself, what do they want to hear?
6. Good films need more than just a filter and an iPhone – having well produced content in your armoury is priceless.
Here's our film incase you haven't already seen it…