"When a very close friend passed away, I reflected on my achievements to date, and set myself a goal to do something good for society.  The most amazing thing I thought I could do was to help someone gain the ability to see." Amish Nathwani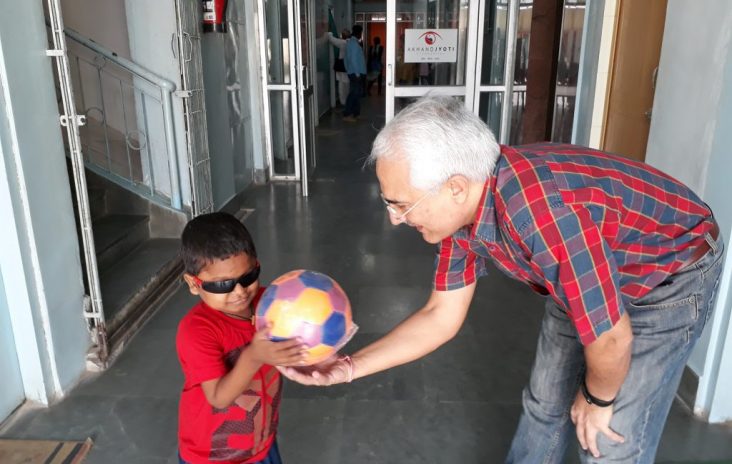 Earlier this year, we introduced Amish to AJEH, an eye hospital we have been working with for many years. With a career in accountancy and a broad experience of reviewing businesses and related systems, we thought he'd be a great asset to the hospital, not just to fulfil his goal of volunteering, but more specifically, to support AJEH in relation to their plans for expansion. He has written a blog about his time there – some excerpts of which we wanted to share below.
My first impressions are that the AJEH organisation is doing absolutely amazing work. People – in their hundreds – walk into the hospital blind (in either one or both eyes) each evening and walk out the next day being able to see – that is just awesome!
One day I was walking around the ward and I saw this frail and terribly anxious looking lady (approx. 85 yrs old – son was not quite sure how old she was) – with 'bi-lateral cataract' i.e. blindness in both eyes. Her name was Ms Paudhariva Devi. She was crouched on a bed, sandwiched between two other ladies. Both her hands were desperately sweeping around the surface of the bed, feeling her surroundings to get a sense of what or who was around her. She looked like a disoriented new-born kitten, intermittently clasping her hands.
Shashi, a senior optometrist, explained to me that Paudhariva Devi was waiting for a cataract operation and when clasping her hands "she is doing prayer", pleading to god that her operation will be done and that it will be successful. When Shashi approached her to ask how she was, both of Paudhariva Devi's hands sprang-out instinctively and clasped Shashi's hand and arm. Paudhariva Devi asked Shashi whether the women (who had a cotton patch on one of their eyes) lying next to her had had their operation done, and tearfully pleaded to Shashi to make sure she gets her operation. At that moment, my heart sank and a tear trickled from my eyes watching how sad and desperate this lady looked. Shashi said me "don't be emotional sir, she will be able to see tomorrow, you'll see". This lightened my heart a little and brought a bit of a smile to my face.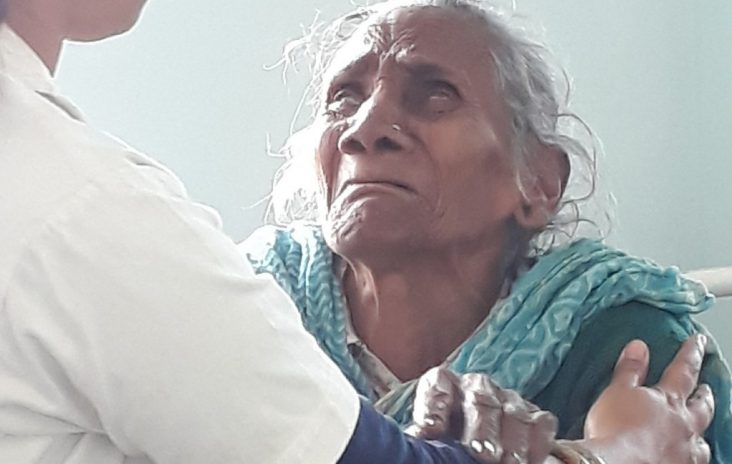 Next morning at 9.15am – I saw Paudhariva Devi, having had a cataract operation the previous day, waiting in the Doctor's room for a post-op examination. She had a cotton wool patch across her right eye, and was clasping her son's hand. She looked much more at ease than when I saw her the previous day.
I learned that she has two sons, three daughters, two grandsons, and two granddaughters. Her son next to her explained that "she had been losing her sight gradually over a number of years"; since the past two years she had been like "kachra" (ie garbage) lying on the floor all day at home and not wanting to do anything; she did not want to have an operation as she was very scared (this explained why she kept praying the previous day while waiting in the ward); and that he sells vegetables in a market and it was not easy to take time to bring her into hospital (as that would mean he cannot earn for two days). Paudhariva Devi explained that she was feeling very happy, and that she was looking forward to seeing her grandchildren, who she had touched but not seen for many years. Also, that she was now not afraid and hoped that the hospital will operate on her other eye in due course, and that she "will tell others to come to the hospital to get their eyes operated". The post-op checks revealed that in fact Paudhariva Devi had re-gained vision (in her right eye) and would not even need spectacles. A remarkable transformation over the space of a day!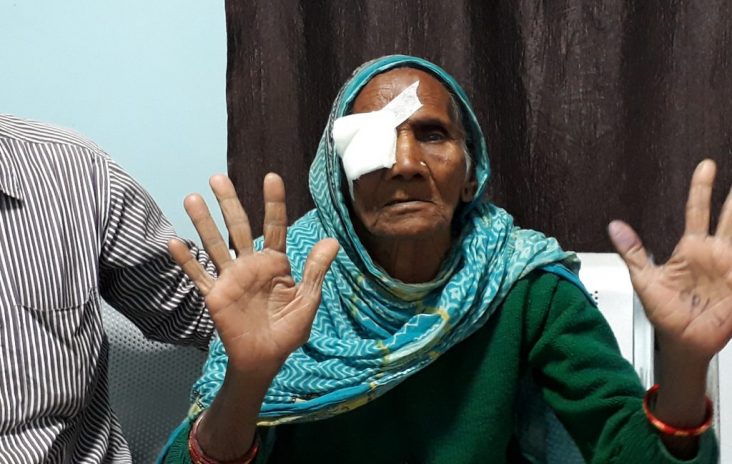 Beyond meeting patients like Paudhariva Devi, I've been able to help in a broad range of things including helping define a five-year strategy, develop financial forecasts for the hospital, proposals to potential donors and related promotional material, management information and monitoring tools as well as several other day-to-day operational issues.
This has been an amazing opportunity. I have learnt so much about how tough life is for so many people who, despite which, remain very positive; delivery of affordable and accessible eye care to such people; aspects of managing a specialist eye hospital; cultural differences; and above all, some very innovative and effective ideas that AJEH have adopted – particularly in educating and empowering girls in a society that has traditionally restricted them. And, the AJEH team has been amazing!
You can read more about Amish's volunteering at http://see-4-yourself.com